Mini Theatre (Le ciel de l'esprit)
---
Overview
The Mini Theatre, located between the Learning Commons and the Humanities Academy is designed for film and music appreciation activities. It's built in the form of an egg to symbolize the hatching of knowledge from a state of turbidity, according to ancient Chinese writings. The turbid state refers to the blend of various art genres including but not limited to music and cinematography.
Arts are source of inspirations. A series of film and music appreciation activities and programs will be held to nurture the participants' interests in various art genres. In such a relaxing ambiance, participants can cultivate their temperament and open their minds up to new knowledge.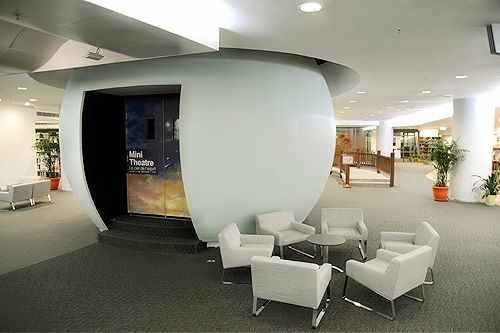 Seating Capacity and Equipment
Seating Capacity:
15
Equipment:
DVD/Blu-ray player
VHS player
5.1 audio system
Projector and screen
Use and Booking Policy
All teaching staff members are eligible to book and use the Mini Theatre. Interested parties please refer to the use and booking policy and submit booking requests via the Mini Theatre Booking Request Form.
Conduct of Users
The Mini Theatre is strictly for academic use only.
Please remove all personal belongings from the Mini Theatre after use. Library staff will remove any personal belongings left behind. No prior notice will be given.
Do not leave any valuables in the Mini Theatre while temporarily away from the room. The Library is not responsible for any loss of personal property.
Do not lock in the Mini Theatre any library books that have not been borrowed or any in-house use materials (e.g. reference books, journals, newspapers, etc.) The Library has the right to remove any library materials found.
Any damage or disorder of furniture / fixtures / equipment in the Mini Theatre should be reported to the IT Help Desk at once. In case of misuse or negligence, users will be held responsible for the total cost incurred for repair or replacement.
Do not eat or drink inside the Mini Theatre.
Do not cover the windows on the doors.
The Mini Theatre should be kept clean and tidy all the time. Please dispose of any rubbish, old newspapers, used tissue papers, etc. properly.
Users should not transfer the booking or usage to other university members or outsiders.
Please observe Library Regulations at all times.
Important Notes to Users
The Library reserves the right to inspect the Mini Theatre even if they are in use.
The Library reserves the right to refuse lending the Mini Theatre to any user who fails to observe the booking policy.
The Library has the final say on the allocation of Mini Theatre bookings should there be any dispute among the users.
Enquiries
Please contact the Library's Multimedia Services Section.
Telephone: 3442-7069
Email: lb@cityu.edu.hk